A message from our founder Jacob I. Oberlander, CPA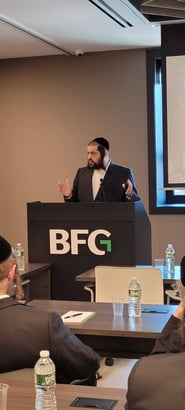 On behalf of our entire team, welcome! We know that not all accounting firms are created equal; therefore we would like to give you a brief overview on what sets us apart.
Let me introduce ourselves; Oberlander & Co is a full service accounting firm based in Rockland County serving clients in the Hudson Valley and throughout the New York Metropolitan area. We pride ourselves with our "down to earth" and "no-nonsense" approach. We keep strong personal relationships with our clients. Our clients benefit by getting personalized and quality service that is beyond comparison. We stand out with our heightened quality and accurate service. We strive to respond in a prompt and timely manner. We emphasize on a proactive approach where we reach out to you on a periodic basis. We strongly encourage you to take a look at our "services page" to see the array of services that we offer.
We understand that as an entrepreneur you would rather do what you do best and leave the accounting work for someone else. We set you up in a way that the accounting system works as seamlessly as possible. We address this concern by being on top of trend with technology advancement, be it by offering video conferencing, file sharing and portals, or remote support.
Number crunching is just one side of the equation; we want you to know that we are your trusted business and financial advisor as well. Please do not hesitate to contact us if there is anything that you feel the need to discuss.
Since we get new business from the people who know us best, client referrals have fueled our growth in the recent years. You can rest assured that we will give your referred client the same exceptional service you have come to expect from us.
If you are looking for a fulfilling career opportunity with great potential, reach out to us here.