A message from our founder Jacob I. Oberlander, CPA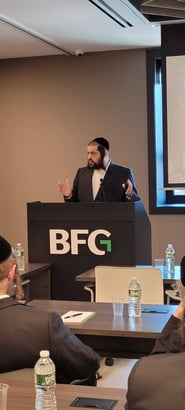 On behalf of our entire team, welcome! We know that not all accounting firms are created equal; therefore we would like to give you a brief overview on what sets us apart.
Let me introduce ourselves; Oberlander & Co is a full service accounting firm based in Rockland County serving clients in the Hudson Valley and throughout the New York Metropolitan area. We pride ourselves with our "down to earth" and "no-nonsense" approach. We keep strong personal relationships with our clients. Our clients benefit by getting personalized and quality service that is beyond comparison. We stand out with our heightened quality and accurate service. We strive to respond in a prompt and timely manner. We emphasize on a proactive approach where we reach out to you on a periodic basis. We strongly encourage you to take a look at our "services page" to see the array of services that we offer.
We understand that as an entrepreneur you would rather do what you do best and leave the accounting work for someone else. We set you up in a way that the accounting system works as seamlessly as possible. We address this concern by being on top of trend with technology advancement, be it by offering video conferencing, file sharing and portals, or remote support.
Number crunching is just one side of the equation; we want you to know that we are your trusted business and financial advisor as well. Please do not hesitate to contact us if there is anything that you feel the need to discuss.
Since we get new business from the people who know us best, client referrals have fueled our growth in the recent years. You can rest assured that we will give your referred client the same exceptional service you have come to expect from us.
If you are looking for a fulfilling career opportunity with great potential, reach out to us here.
Our people are our biggest asset, so we invest in them, and you reap the rewards.
Our core values are front and center of what we do. It keeps us focused on working with intent for the greater good of your business and society.
Our Core Values
Integrity
Humility
Good EQ
Positive
Open-minded
Honest and open to self, consistent in belief and behavior. Resolve.
Having a thorough understanding of everything you do.
Forthcoming and sharing your vision and understanding.
Follow-through consistently on all things needed.
Giving before getting, respect for every human being, and knowledge boundaries.
Doesn't take anything for granted - everything is an exchange of value.
Loves to give, humbly.
Never looks down at others.
Gets along with everyone, kind in character, yet purposeful.
A clear understanding of people and situations.
Does what's necessary, when necessary regardless of who gets the credit.
Purposeful, results-driven.
Has a positive and "can-do" attitude.
Sees the talents in everyone.
Sees the good in everything.
Easily adaptable to situations.
Willing to consider new ideas, tolerates different opinions, and is open to trying new things.
Always questions the status-quo
Continually balancing own and others' needs.
No prejudges
Jacob I. Oberlander, CPA
Team Leader & CEO
Beyond the Title
Jacob Oberlander currently serves the role of team leader supporting our team and empowering them to serve our clients. Jacob works with growing business owners, advising them on how to plan, get clarity, and grow their business.
Background & Experience
Jacob graduated from Touro University with a bachelor's degree and has been in the accounting field since 2007. In 2012 Jacob became a Certified Public Accountant.
Beyond the Title
David Eigner currently serves as a fractional CFO to our clients. His focus is on reviewing the financials and dissecting what's behind the numbers, building complex business forecasts, and helping with cash flow planning. David also serves as our resident tech guru helping develop workflows and automation to ensure that your books are optimized for accuracy and speed.
Background & Experience
David graduated from Fairleigh Dickinson University with a Masters degree in Business & Accounting, and has been with Oberlander & Co since 2019. Prior to joining the firm, David served as a CFO in a private industry where he gained a valuable understanding of what clients value and how to deliver their needs.
Connie Oberlander
Senior Accountant & Bookkeeper
Beyond the Title
Connie Oberlander currently serves as a senior accountant, primarily focusing on Real Estate entities. Connie is also in charge of our stand-alone personal tax return as well as, doubles as the Controller for O&Co.
Background & Experience
Connie has been with Oberlander & Co since 2012. Prior to joining the firm, Connie served as a mortgage loan processor for many years, helping clients obtain mortgages, which gives her a fundamental understanding of real estate and mortgages.
Rachel Friedman
Accounting & Tax Supervisor
Beyond the Title
Rachel Friedman currently serves as Accounting & Tax Supervisor and is in charge of reviewing every tax return to ensure that we deliver each tax return to the highest standards. Rachel serves as a mentor for our team, assisting our team members with QuickBooks and other accounting issues.
Background & Experience
Rachel joined Oberlander & Co in 2015. She started as a junior staff accountant and determinedly climbed the ranks at the firm to her current role.
Mindy Meisels
Senior Accountant
Beyond the Title
Mindy Meisels serves as a senior accountant, helping and mentoring clients with QuickBooks and Rent Manager. Mindy helps her clients save thousands of dollars through effective tax planning. Mindy also serves as sales intake and phone triage, assisting potential clients in determining if we are the right fit for them and addressing current clients' concerns.
Background & Experience
Mindy has been with the firm since 2017 and has helped clients grow from infancy to eight-figure companies. She is credited with simplifying complex accounting and tax terms, so clients can understand them and can create an action plan.
Yehudis Goldberger, CPA
Senior Accountant
Beyond the Title
Yehudis Goldberger has vast knowledge in the Real Estate field and works extensively with Rent Manager, or go-to app for real estate accounting and management. Yehudis works with clients to help them with tax strategies with Federal and State governments.
Background & Experience
Yehudis graduated from Fairleigh Dickinson University with a Masters in Business & Accounting and has been practicing accounting since 2017. In 2020 Yehudis received her license as a Certified Public Accountant.
Goldy Friedman
Senior Accountant
Beyond the Title
Goldy Friedman serves as a senior accountant and helps clients with their accounting needs, working with clients using QuickBooks Desktop and QBO. Goldy is currently working with complex inter-company activity as well as multi-currency.
Background & Experience
Goldy has been with the firm since 2020. During Covid-19, Goldy has helped our clients receive government assistance in the millions of dollars such as PPP, Employee Retention Credit, and EIDL, helping their businesses survive through the challenging times.
Shaindy Oberlander
Executive Assistant & Admin
Beyond the Title
Shaindy Oberlander is our intern, serving as executive assistant and handling special projects.
Background & Experience
Shaindy is the editor of our video series in which we explain important accounting and CFO topics.