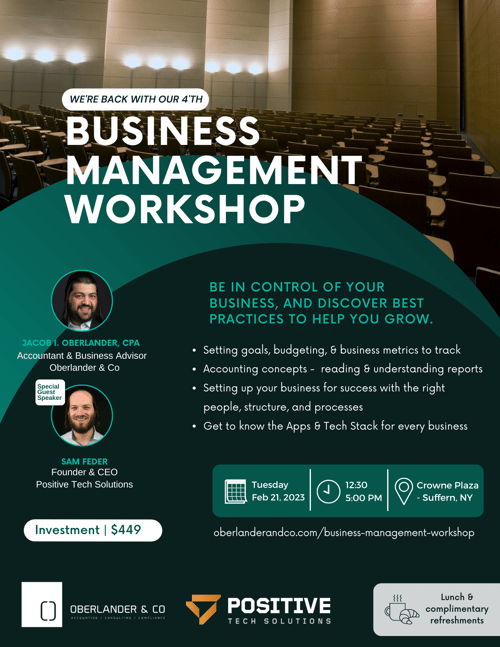 Register for the Workshop
FAQs
Who is this workshop for?
The workshop is aimed for business owners, managers, or anyone in a leadership position.
If your business has been in operation for 3 years plus this is for you
Team of at least 5 people
Eager to take your business to the next level!
I do not meet these criteria. Can I still sign up?
It depends…

In some cases, it might still work. Reach out to us and let's discuss your unique circumstances.
What is the workshop all about? What will be covered?
The workshop is titled "Business Management Workshop." It is designed to give you a crash course on all you need to know about running your business. We will cover a wide array of topics in a clear and concise manner.
Here is a partial list,
💼 Business Processes - we will teach you how to set up your business for success with the right people, structure, and process. We will bring you valuable tips on how you can maximize your time.
💻 Technology - we will show you what apps and tools you can utilize in your business to be more productive. You will learn best practices on how to use them. You will get a primary understanding of what you need to know about your office tech and bring you the latest updates in cyber security,
💰 Accounting & Finance - you will learn how to read reports, create a budget, and set goals for cash flow planning.
I don't see the topic of "taxes" mentioned in the outline. Will you be discussing this?
You are correct! While we do have extensive knowledge in the area of tax, we are not including it in the workshop since tax requires a lot of time and, frankly, it is not for everyone. If you're interested to learn more about taxes, we do offer a separate workshop focused exclusively on tax-related topics.
Will there be an opportunity to network with other business owners?
Yes!

We designated time for you to be able to network with fellow business owners that are participating.

Doors will open at 12:30, and lectures will start at 1:00, which will give you time to meet and greet. Additionally, there will be time to network during the lunch break.
I'm not in accounting or finance is it still for me? Should I still attend?
Yes!

Although a substantial part of the workshop focuses on the financial aspect of your business, we will only be addressing it from a high level. We strongly believe that every business owner and everyone in a position of management should have a fundamental understanding of the topics that we will address.
What is the format of the workshop?
The workshop will be lecture-style with an interactive slide presentation. Be prepared to participate and answer questions that will be asked. Live questions will be permitted on a limited bases depending on the time available. All remaining questions can be addressed during lunch and once the speeches have concluded.
Why can't I join the workshop remotely via zoom?
The workshop is designed for you to immerse in the topics that will be discussed without any distractions, therefore, we felt that for the best learning experience, we would require participants to show up in person.

The workshop is for a small group of business owners, and a live setting will allow you to participate fully and ask questions.

You will also have the opportunity to make personal connections with the speakers and other participants.
Both speakers have a combined business experience of close to 40 years. We are passionate about small businesses and are excited to share our collective knowledge!
Where will the Workshop takes place?
The workshop will take place in a central location in Rockland County. While preparation is underway, we did not make a final decision.

Once the location is finalized, we will reach out via email to all who signed up.
When will the early bird expire?
The Early bird discount is valid until Wednesday, February 8, 2023, 5:00 PM.